Scroll Down to Meet the Experts. Each Speaker/Trainer has been carefully hand-selected to bring you the BEST information on the topic at hand. It was important for us to bring you experts in their respective field. In each 3 hour Intensive we've asked each speaker to provide:
Training Business Pros training studio is located at 25 Lesmill Road Unit D. Please walk to the front of the building to enter.  (We face the road. Red signage on our windows).
10:00 am EST – 12:00 pm EST
Password is on our whiteboard in training room.
Use of Cell Phone During Trainings:
A reminder to please put your phones on "silent mode" during trainings.  Please avoid using your cell phone in our facilities. Calls can be taken in hallway backstage.
Inclement Weather Policy:
Help us keep our training facilities safe! In slushy, wet or snowy conditions, please bring change of footwear as floors may be slippery when wet.
Parking is available on south side of building indicated by "Training Business Pros" signage. Further to the back of the building there are 20 more available spots numbered 1 through 20. There is also parking on West side of building towards the back.
TBP offers coffee, tea and water. We often have cream, milk and almond milk in supply. Help us be eco-conscious. Bring your own reusable cup as we have a filtered water machine. We often supply snacks and a selection of whole fruit (apples, oranges or bananas). You may bring your own food/snacks – but be mindful that the odor or sound of the food shouldn't distract your fellow trainees.
Scent Aware: Perfumes/ Colognes
Please avoid wearing scents as many people have allergies or sensitivities to scents.
Step 1. Choose the dates and Training in our
STORE
 . Once you check out, you will receive a c
onfirmation Email
 asking you to confirm your information.
Once you do, it will prompt a 'Welcome Email'. This email will ask you to confirm if you will be joining us in Person or via Livestream.
Step 2. Click Livestream in your Welcome Email to receive your login Information. We will then generate a link that attendees will get only after they fill out a registration form. Note, your Login credentials are unique to you. They may not be shared and are outline in our Terms of Service.
Step 3. PLAN YOUR LIVESTREAM EXPERIENCE. Before you join us via Livestream, do make sure your home or office system has enough bandwidth to stream / download video to your computer. We recommend 5 megabits per second, and for Ultra HD (4K) quality, 25 megabits per second. Note that these are the minimums for one stream.
Step 4. Have your Login credentials ready. You should have received your login credentials shortly after purchase.  Click on the Livestream link and you will be taken to our events page. Once you are in, it will look something like this: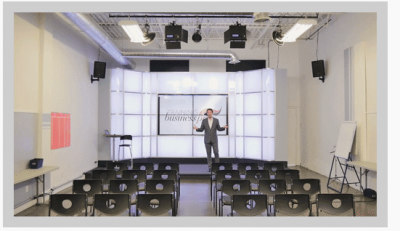 Remember, that our Livestream airs Live 10:00 am EASTERN STANDARD TIME
We recommend you log in 15 minutes early to troubleshoot any technical difficulties you may experience.
You may experience trouble viewing if you are on a shared/public wifi (Starbucks, Airports, Hotels) due to too many people using wifi at once.
We highly recommend you buy headphones so you are hands-free. You may want to type and participate in the Chat area.
If you have trouble with your log in call 416-444-7767 (Toronto, Canada).
DO NOT EMAIL as we may not be as quick to respond via email.
Once you are logged in, we also have tech support monitoring the chat group.
There are Tim Hortons & Starbucks on York Mills / Lesmill, a short walk from our office. There are also a large selection of restaurants in the area. The Fox & Fiddle and Me-va-me Kitchen Express both offer outdoor seating for summer patio season. Alternately there is a selection of fast food in the area including Freshie's. Breakfast enthusiasts may enjoy Cora's across the road at  861 Yorkmill Rd #8. If you like a family type place for Breakfast, locals like Windfields Restaurants 801 York Mills Rd.
You can walk to our office from The Westin Prince Hotel. It's a 4-Star Hotel with a 4.1 Star rating on Facebook. Located at 900 York Mills Rd, North York, ON M3B 3H2 
Cafe's, Shop, Eat, VIP Movie Complex. Try Joey's rooftop restaurant on a nice sunny day. One of our Favorites. Lots of choices for nice dining experiences.
1090 Don Mills Road Toronto, Ontario M3C 3R6
FREE Parking is available
180 stores including Lululemon, Hudson's Bay, Apple, Eddie Bauer and more. Moxie's is next to The Bay (only accessed from inside the mall).
1800 sheppard ave east
FREE Parking is available
JOIN THAT'S AMBITIOUS PROGRAM TODAY
Discover how to hone the skills of a successful CEO. Improve your mindset, increase sales, enhance profits, boost the value of your business and even improve your health. Whatever big hairy audacious goals you have, the That's Ambitious mentorship program will help you get there.
Join Anytime - Courses Are Ongoing

Each Session Is Recorded in HD Video for Review

Courses Are a Powerful Mix of Professional and Personal Development Seminars

2 Courses Per Month Presented Every Other Thursday
Get Certified as a
THAT'S

A

MBITIOUS

CHANGEMAKER!
Did you know that there are awards and prizes for participating?
After participating in the program, whether that be for a single month, multiple months or an entire year, Ambitious participants can apply to present their results to a distinguished panel of "Success Experts & Investors" at the "THAT'S AMBITIOUS CONFERENCE" and Gala Event.
Winners will receive widespread recognition for their accomplishments as well as a variety of valuable prizes including: an exclusive vacation, a private golf club experience, customized executive consulting, digital marketing campaigns, video production, a PR campaign and more. Click here to see complete list of awards.
THAT'S AMBITIOUS
REGISTER NOW